On April 4, 2023, the European Commission released the latest statistics on the use of animals in research and testing in the EU and Norway in 2020. The UK is no longer included in the statistics since withdrawing from the EU, so the statistics from previous years have been recalculated.
This information is very important for promoting transparency and openness. It also plays a vital role in directing efforts more effectively towards the 3Rs in animal research. This summary of the data outlines the number of animals reported to have experienced 'severe' suffering.
Key findings
Mice are the species most likely to experience severe suffering
Batch potency testing is responsible for the largest number of severe procedures (134,017)
Ecotoxicity testing has the highest proportion of severe procedures – 42% of all ecotoxicity testing procedures were severe
The production of monoclonal antibodies by the ascites methods has increased by 12%. However, the number of severe procedures has decreased significantly
Overview
In the EU and Norway, 10% of procedures (796,750 in total) were severe, which is the same proportion of severe procedures as reported in 2019. The absolute number of severe procedures fell by almost 10%, from 884,186 in 2019, presumably because fewer animals were used overall due to the pandemic.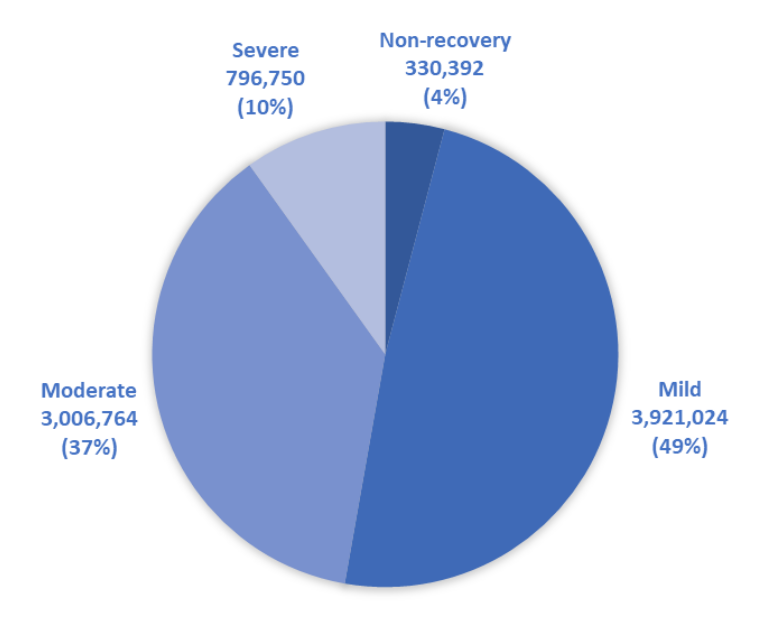 Which animals experienced the most 'severe' suffering?
492,464 Mice (12.5% of all mouse use was 'severe')
50,921 Rats
33,388 Zebrafish (11.9% of all zebrafish use)
166,855 Fishes (other than zebrafish)
13,638 Guinea pigs (12.2% of all guinea pig use)
Which types of use were most likely to be severe?
In 2020, the highest number of severe procedures were for regulatory purposes, translational and applied research, and basic research.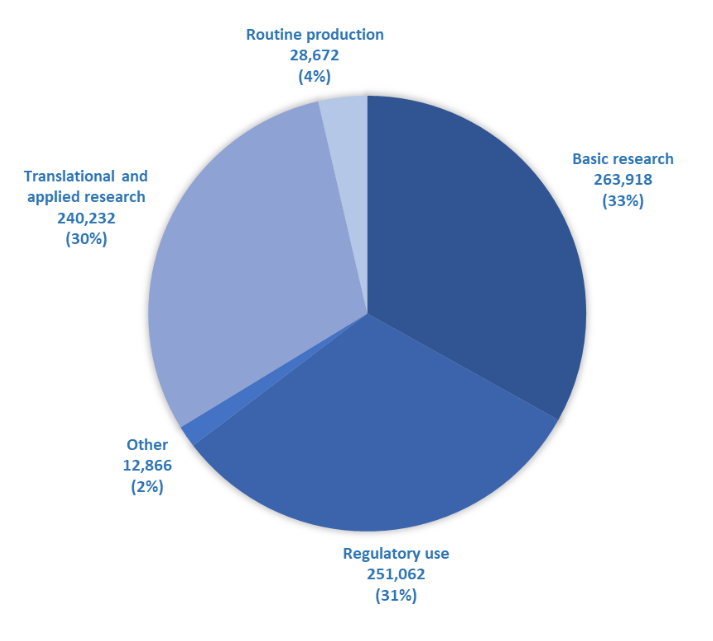 The graph below summarises which sub-categories of purposes have the highest number and proportion of severe procedures.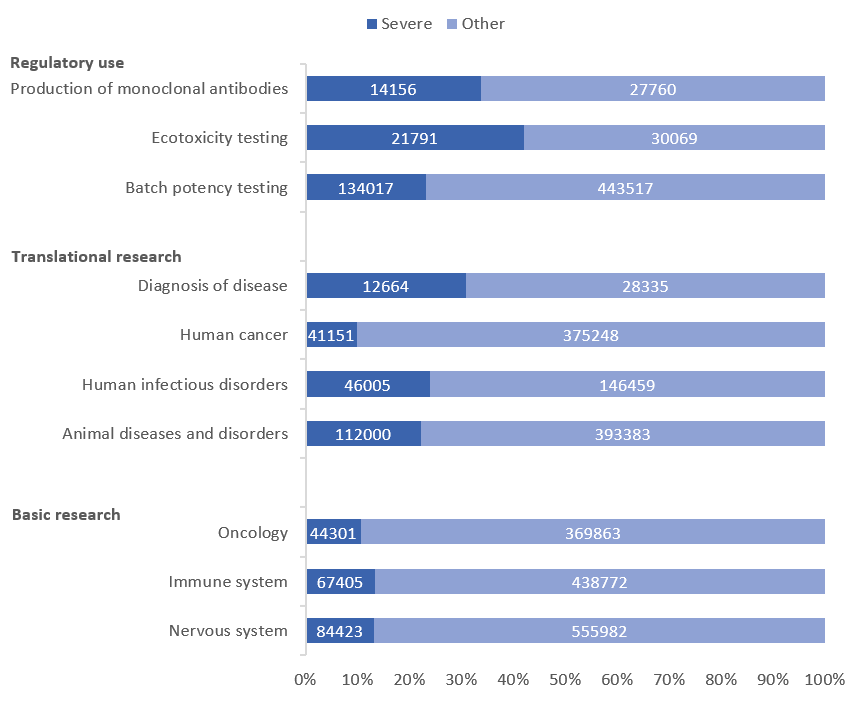 Batch potency testing had the highest overall number of severe procedures, followed by animal diseases and disorders, and studies on the nervous system. Encouragingly, there has been a 23% decrease in 'severe' actual severity associated with batch potency testing since 2019.
The use of the mouse ascites method for the production of monoclonal antibodies continues to be of concern. Alternative approaches are available and this method has not been used in the UK for example since 2012. Although use of this method decreased by 35% between 2018 and 2019, 2020's figures saw it increase by 12%. This increase, and its use generally, was almost entirely reported by one member state – France. Improved application of refinement techniques and earlier endpoints are probably responsible for the reduction in the associated severity reported – 34% now being reported as severe, compared to over 90% in the past. The statistical report highlights that further efforts are apparently taking place to review ongoing projects involving the use of mouse ascites.

The full report on EU and Norway animal research statistics can be found on the ALURES database.